Marion Sellenet
+32 (0)4 84 29 03 51
contact@marionsellenet.com
> Blog : Le bout du caillou
> Page Facebook
Bio
Originaire des Cévennes, vit et travaille à Bruxelles. En 2017, elle est lauréate d'une  bourse Vocatio. En 2015-2016, elle a été boursière de la Fondation Carrefour des Arts.
From the south of France, live in Brussels.  This year, she's fellow of the Vocatio Fondation.
Publications
Editions Tallandier / Le Monde Diplomatique / Therapy Today (UK) / CIFAS asbl / 24h01 / Kairos / Agir par la culture / Charaktery (PO) / IHEID Genève / Décapage / Indications / Voix d'Encre / La Garance Voyageuse / Musée d'Ixelles / Editions de la Souris / Le Tétras Lyre Editions.
Exhibitions
Exposition duo avec Elis Wilk / Abbaye de Massay (Fr) 08/2016
Fondation Carrefour des Arts, exposition des Lauréats, Brussels, 06/2016
Parcours Brussels I love you, Pascal Polar Galery, Brussels, 02/2016
L'exposition du déménagement, Brussels Arts Factory, 2015

Little things3, exposition personnelle, Pascal Polar Galery, Brussels, 2014
Solide(s), Atelier rue du Métal, Parcours d'artistes de St-Gilles, 2014
Orchinfabula, Festival du conte, Paestum (Italy), 2013
Transition, Galery Art Base, Bruxelles, 2013
L'arbre en soi, Mairie de St-Paul de Varces, (Fr), 2012
Gladiateures, Maison du livre de St-Gilles, 2011
Gladiateures, Maison de l'International, Grenoble (Fr), 2010
Il était une fois…, Maison Pelgrims, Bruxelles, 2010
Press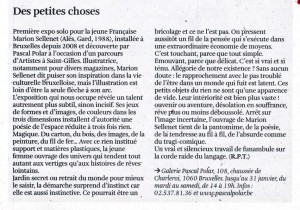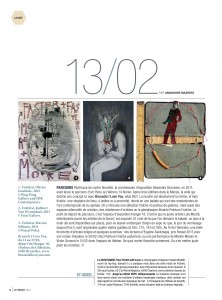 Les œuvres de ce site web sont mises à disposition selon les termes de la Licence Creative Commons Attribution – Pas d'Utilisation Commerciale – Pas de Modification 4.0 International.